At Indian PR Distribution, we have guaranteed placement options for premium Indian national media outlets. This service include media placement at The Tribune as well. Please contact us for the pricing option and for an expert consultation. Avail this exclusive opportunity provided by Indian PR Distribution.
About The Tribune
Daily newspaper The Tribune is an Indian English-language newspaper that is published in Amritsar, Jalandhar, Ludhiana, Chandigarh, and New Delhi. It was established on February 2, 1881, in Lahore, Punjab (now Pakistan), by philanthropist Sardar Dyal Singh Majithia, and is administered by a trust consisting of five individuals who serve as trustees. It is a significant Indian daily with a vast distribution network around the world.
At Indian PR Distribution, we assist businesses, organizations and public figures to get featured on The Tribune. Under this bespoke and highly curated service, we offer the exclusive opportunity to our clients to get featured on The Tribune. Our service is guaranteed, which means, we will get you featured for sure or you get your money back.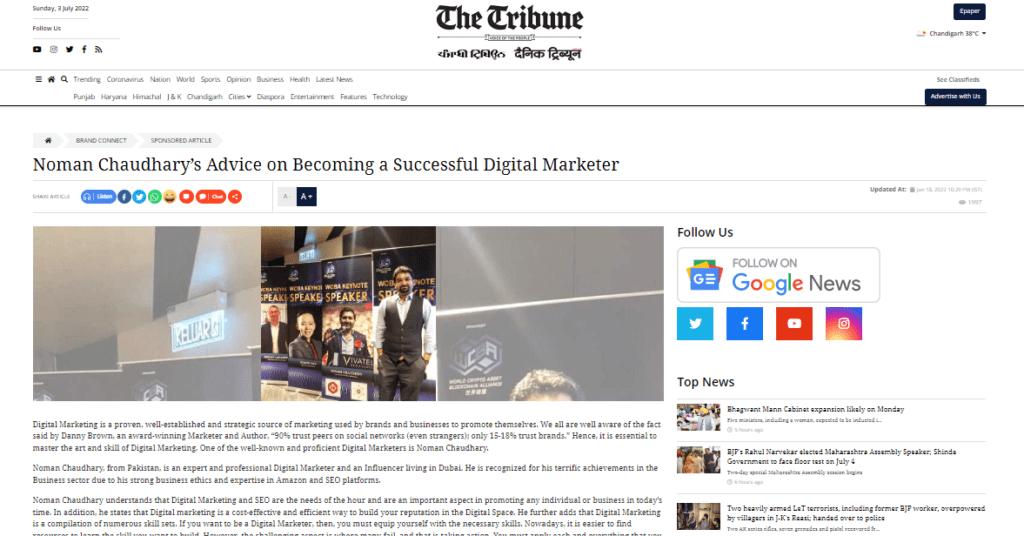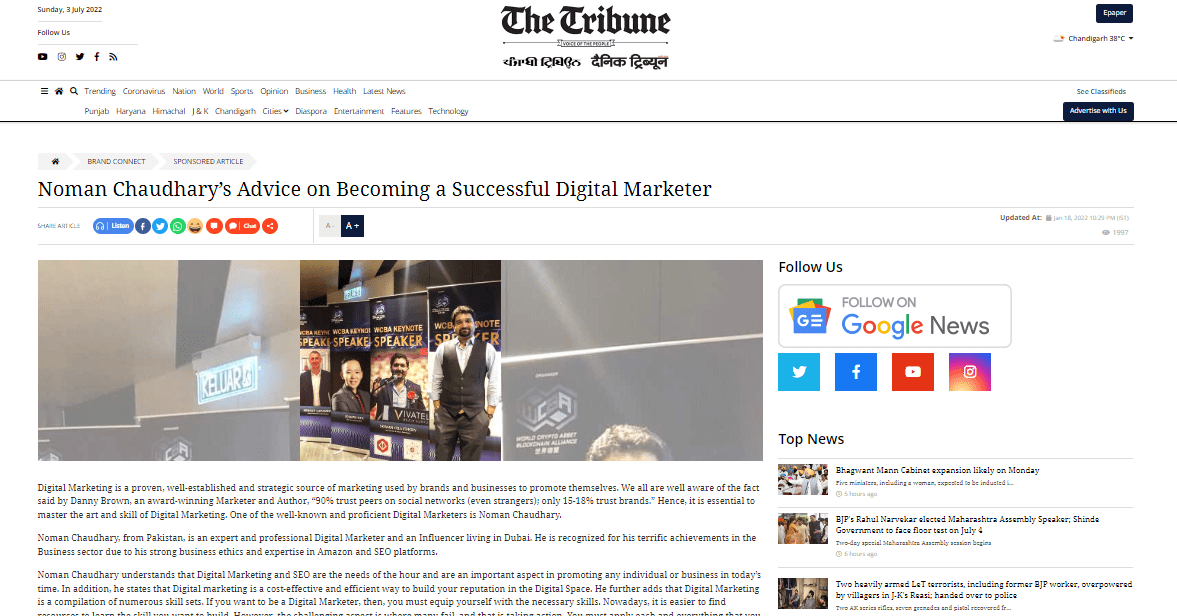 History of The Tribune
In India, it is one of the most widely read English-language newspapers in the provinces of Punjab, Haryana, Himachal Pradesh, and the Union Territory of Chandigarh. Rajesh Ramachandran is the Editor-in-Chief of The Tribune at the time of this writing. In his previous position, he served as editor-in-chief of Outlook magazine. He took over from Harish Khare, who had been named editor-in-chief of the Tribune Group of newspapers on 1 June 2015 and had served in that position until 15 March 2018.
Ownership
The Tribune has two sibling publications: the Dainik Tribune (which is published in Hindi) and the Punjabi Tribune (which is published in English) (in Punjabi). The Editor of the Dainik Tribune is Naresh Kaushal, a well-known figure in the area of journalism in North India, while the Editor of the Punjabi Tribune is Swaraj Bir Singh, a well-known Punjabi dramatist. A web-based version of The Tribune was first published in July 1998, while the Punjabi Tribune and Dainik Tribune web-based editions were first published on August 16, 2010, respectively. The Tribune Trust is the company that publishes all three publications. The Tribune Trust, whose trustees include S. S. Sodhi, S. S. Mehta, and Gurbachan Jagat, is now led by Narinder Nath Vohra, who is also the current president.
In the past, the Tribune has had editors-in-chief who have included Kali Nath Roy, Prem Bhatia, Hari Jai Singh, H.K. Dua, and Raj Chengappa, among other notable names. The Tribune, like the majority of Indian newspapers, derives the majority of its money from ads rather than subscriptions, and it has a subscribers of around one million people.