At Indian PR Distribution, we have guaranteed placement options for premium Indian national media outlets. This service include media placement at News18 as well. Please contact us for the pricing option and for an expert consultation. Avail this exclusive opportunity provided by Indian PR Distribution.
About News18
Network18 Media & Investments Limited also known as the Network18 Group is an Indian media conglomerate owned by the energy giant Reliance Industries, which is headed by billionaire Mukesh Ambani. Network18 Media & Investments Limited (formerly SGA Finance and Management Service and Network18 Fincap Limited) is a subsidiary of the Reliance Industries group of companies. Network18 is led by Rahul Joshi, who serves as its managing director, chief executive officer, and group editor-in-chief, and by Adil Zainulbhai, who serves as its chairman of the board of directors.
At Indian PR Distribution, we assist businesses, organizations and public figures to get featured on News18. Under this bespoke and highly curated service, we offer the exclusive opportunity to our clients to get featured on News18. Our service is guaranteed, which means, we will get you featured for sure or you get your money back.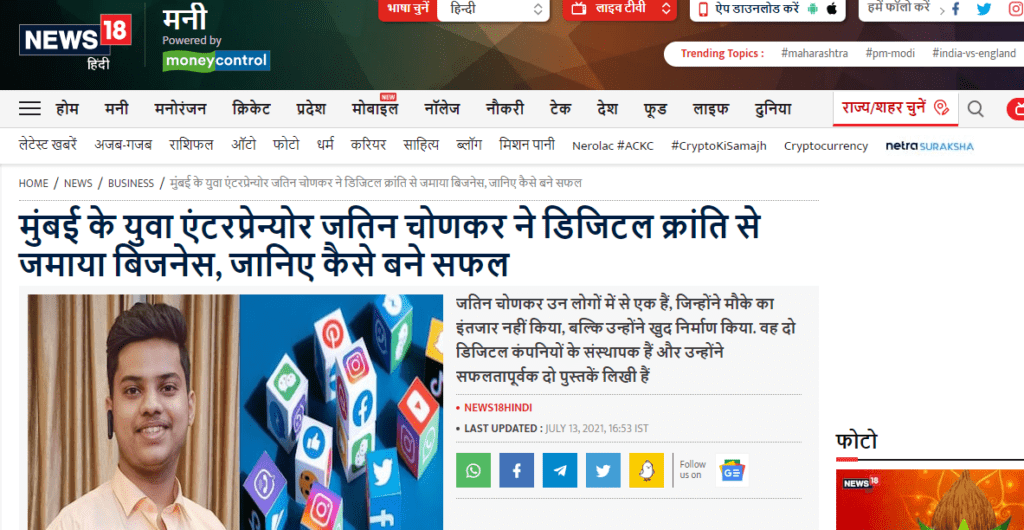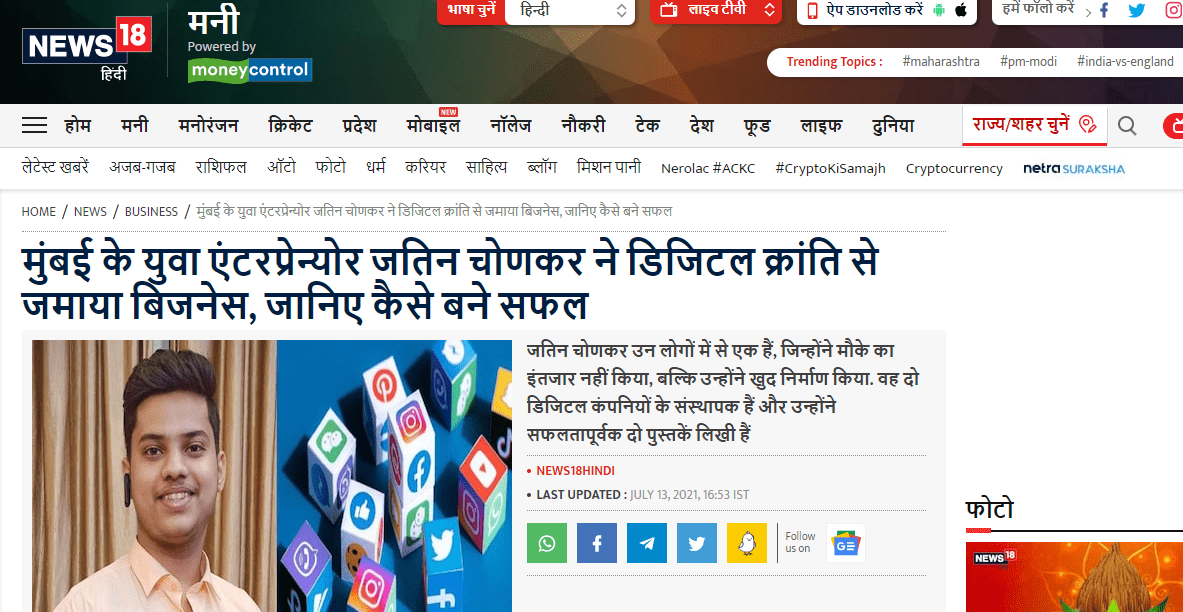 History of News18
NBC18 Broadcast, Web18 Software Services, Network18 Publishing, and Capital18 are all divisions of Network18, which is a holding corporation. The group, through its subsidiary companies and franchise licensing agreements, currently operates the broadcasting networks News18, ETV, and CNBC channels in India, as well as the magazines Forbes India and Overdrive, as well as the websites Firstpost and Moneycontrol, among other assets and investments.
Ownership
A conglomerate holding firm was formed in 1996 by Geeta and Rakesh Gupta and then bought by Ritu Kapur and Raghav Bahl, which was transformed into a conglomerate holding company between 2003 and 2006. A year later, Reliance Industries, led by Mukesh Ambani, purchased the group for an undisclosed sum. The acquisition was accomplished by navigating a complicated transaction through the Independent Media Trust (IMT), which was established by Reliance Industries in 2012 to issue a loan to Network18, which was heavily in debt at the time of the acquisition. As a consequence, Reliance received a 78 percent stake in the company, and the conglomerate now owns 73.16 percent of the stock as of 2019.
The News18 Regional Network, which consists of 14 stations broadcasting in 15 languages in 26 states throughout India, has a total audience of 60 million viewers spanning the country's length and breadth. The hyper-local news that we provide to our viewers is relevant and timely, and it is delivered in the language of their choosing by almost 1200 reporters located in almost every corner of the country.